Style News - StyleWatch - People.com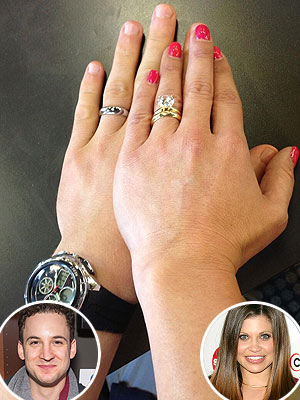 Courtesy Danielle Fishel; Insets: Getty(2)
It's been nearly 15 years since Cory Matthews put a ring on it, but we're just now getting a closer look.
Danielle Fishel (a.k.a. Topanga) tweeted a shot from the set of Girl Meets World, showing her hand with co-star Ben Savage's, both prominently displaying their wedding bands (and in her case, some serious bling). "Cory and Topanga … together again," she wrote.
RELATED: See more gorgeous star engagement rings here!
The two have been shooting the Disney Channel revamp of their original series, Boy Meets World, centered around the Matthews's 13-year-old daughter, Riley.
And both Savage and Fishel seem to be enjoying their "happily married" status, sharing photos from the set and discussing the joys of being a TV parent.
Tell us: What do you think of Cory and Topanga's wedding rings? And are you excited to see them as…
View original post 15 more words