Style News - StyleWatch - People.com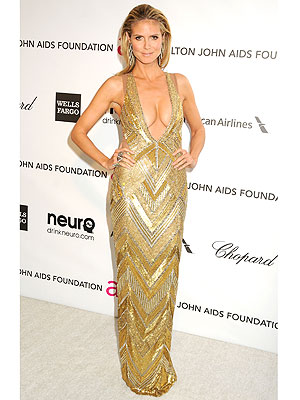 AdMedia/Splash News Online
When Heidi Klum arrived at Elton's John's Oscars party in that eye-popping plunging gold gown we thought that maybe her, um, assets accidentally busted open a seam (or five) on the way to the bash.
Well, it turns out that the Project Runway host, 39, actually had the Julien Macdonald dress altered to be less revealing. Yes, you read that right.
"You should have seen it before!" she told PEOPLE at a launch party for her spring New Balance pieces. "I did actually make it very modest; it was all the way down to my belly button."
Blame it on the supermodel's killer cleavage, which she's understandably proud of.
"To me it wasn't even that risky," Klum added. "Those are my boobs, you know? If they were like all the way down to my knees I would be like, 'Okay, maybe that's the wrong dress,' but I…
View original post 113 more words