Originally posted on Style News - StyleWatch - People.com: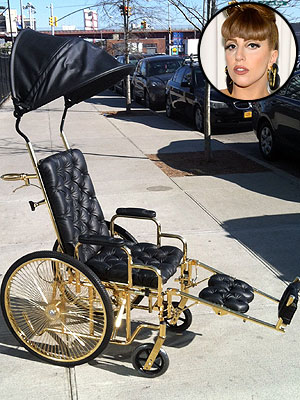 Ken Borochov/Splash News Online
If you thought Lady Gaga would be recovering from her hip surgery like any other citizen — well, you obviously haven't been paying enough attention.
After laying low for a few weeks to recover, the perpetually surprising singer rolled out her latest accessory — literally. She wheeled out of her N.Y.C. hotel (see the pic here) in a 24-karat gold-plated wheelchair created for her by jewelry designer Ken Borochov from Mordekai, whom she'd previously tapped to create a gold claw for her fragrance launch.
The chair features a tufted leather seat and a removable canopy, which is why Borochov said in a statement, "I was thrilled to create what I affectionately dubbed the Chariot, a chair fit only for a queen."

View original 121 more words